Gregorian Previews "Home for the Holidays"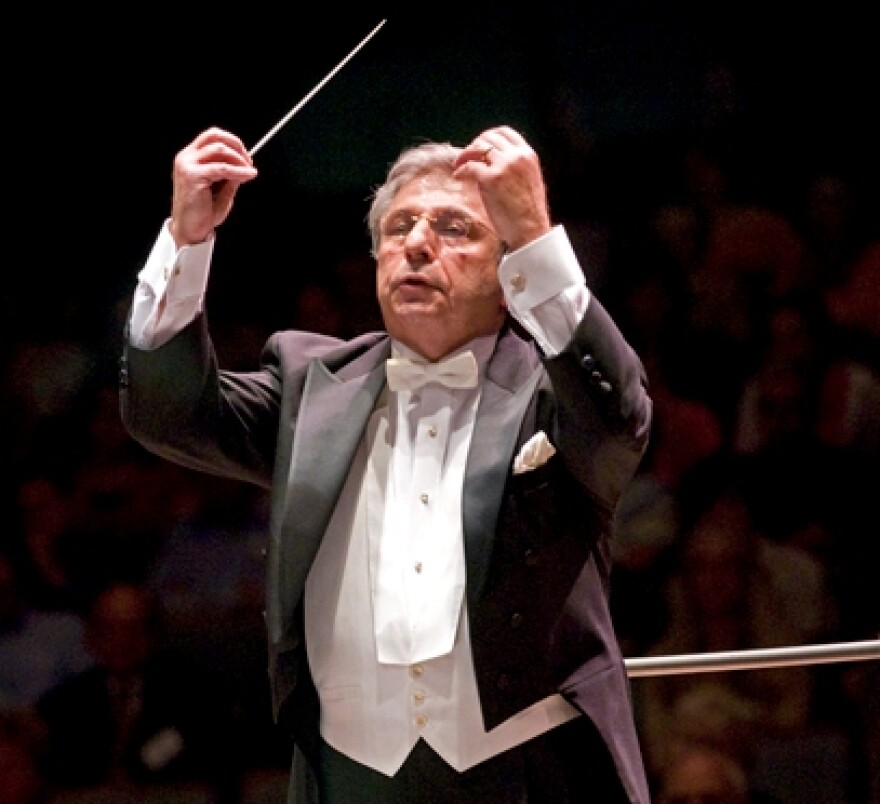 MSU Symphony conductor Leon Gregorian has been on research leave this semester. He'll be back to conduct the MSU Symphony Orchestra next semester, and then plans to retire in April. He'll be conducting the upcoming "Home for the Holidays" concert, and WKAR's Melissa Benmark recently spoke with him, asking him first about his time off.
LEON GREGORIAN: It was wonderful. I really enjoyed it. It gave me opportunity to plan things for the summer, to learn a new concerto by Ron Newman for tuba and orchestra. You know, just to get my act together, I guess, for what, after April. So, it was very productive. I enjoyed it very much.
MELISSA BENMARK: And after April?
GREGORIAN: After April I do things that I really would like to do without checking to see if it's going to conflict with any classes or responsibilities at the University. So it will be exciting.
BENMARK: We will get back to you before then, but uh...
GREGORIAN: Oh, I'm sure you will.
BENMARK: But I do want to ask you about the "Home for the Holidays" concert. First of all, describe what it's like working with what sounds kind of like a cast of thousands for this event.
GREGORIAN: It's always been a large participation of students in this program, this year even more so, because we've actually added the Choral Union. So, the chorus is going to be much larger, and of course the orchestra is a good size anyway. And the Children's Chorus, and so on. So, it is a Mahler Eighth, but we're not playing Mahler. So, it's always fun, you know. So, you know, I've sort of entitled this "evening of festive song and dance, because everything that we play is either a song or a dance. So, when you're happy, especially in this time of the year and so on, that's the two things you like to do. But I can assure you I'm not going to do dancing on the stage.
BENMARK: Well, not that there's anything wrong with that. Well, start with the dances first. What are the dances on the program?
GREGORIAN: The "Valse" from the "Sleeping Beauty," Slavonic Dances #1 and #8. Fiddler on the Roof, Symphonic Dances from that, which is a new arrangement. Oh, the Wedding Dance with Jacques Press, which has become an all-time favorite of the audience. Robert Shaw/Robert Russell Bennett, "Many Moods of Christmas," which has song and dance. So, it is very, very exciting. And then the rest are songs that everybody sings.
BENMARK: I understand that you have a special arrangement, that has an interesting story behind it, by Mr. Brohn.
GREGORIAN: As many people know, Bill Brohn is a very dear friend of mine, and I met him through the University. And this was actually, was written for Frederica von Stade. And when Frederica came to solo, we did for the first time these arrangements, and then a week later she did it with the National Symphony Orchestra. And it was lots of fun. And that's when I really realized the genius of Bill Brohn, because of the way he orchestrates. I mean, it's just entertaining.
So we're very, very, fortunate that I was able to find this music, because when I called Bill and I said, "could I have this, can we do this," he wrote back and said "I don't have the music. I don't know where they are." So I said "Oh, my God."
And then, just before that we had a flood in the uh, I guess it's a closet right next to my office, which destroyed everything in that room. Now, the only thing that came out with nothing on it was Bill Brohn's pieces that I could not find. And then it was so bad nobody could read it. And so I gave it to Kevin Wilt, who is the M. A. graduate from here. Kevin did all this in two weeks. Yeah. Yeah. Six carols. So that's the story. And of course we have a wonderful soloist in Molly Fillmore. I always enjoy working with her, she's such a fantastic musician and a gorgeous voice.