State lawmakers step up to bat at bipartisan softball night
Michigan's Democratic and Republican lawmakers once again faced-off in Lansing, but not at the state Capitol. The two parties competed in a friendly game of softball to encourage bipartisan collaboration, raising more than $20,000 to aid homeless residents in the capital area.
Democrats and Republicans left politics off the field when they went down the street to the Lansing Lugnuts stadium for the first ever Legislative Softball Night.
State Representatives Alabas Farhat (D-Dearborn) and Tom Kunse (R-Clare) organized the game to help lawmakers form friendships in a less polarized space.
"We wanted to make sure that we had an opportunity for us to build camaraderie in the legislature, have an opportunity for Democratic and Republican colleagues to get along, hang out and have a good time, and put aside any partisan differences just get a chance for each other to get to know each other," said Farhat.
Kunse said the game would lower tensions between the parties and dispel notions that lawmakers are "bad people" for having political disagreements.
Both first-term lawmakers considered holding a hockey or soccer game before settling on softball.
The teams huddled up at Jackson Field, donning custom jerseys with numbers to match the districts they represent. After a few warm-up throws and group pictures, the game started, with Republicans up to bat first.
An announcer named each of the legislators as they stepped up to home plate.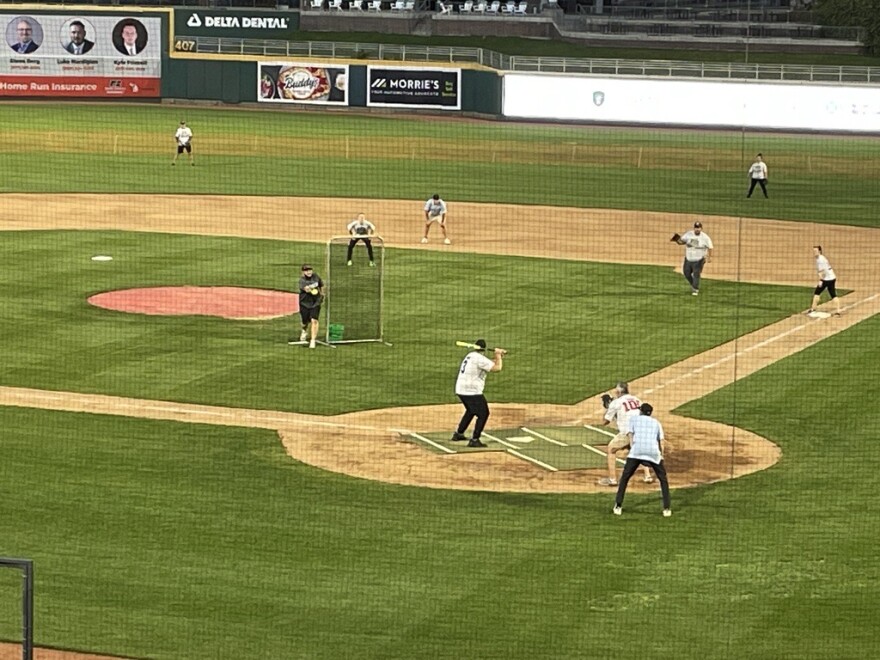 "And our first batter for tonight's softball game, Number 97, Andrew Bierlein," the announcer called out.
Republicans gained an early lead in the first inning 7-2. By the bottom of the fifth inning, the GOP had won 15-9.
But it wasn't a bitter, scorched earth-victory that you might expect to see on the House or Senate floor. The teams lined up to shake hands, embracing their opponents from across the aisle.
Volunteers at the game took donations and raised thousands of dollars at the event to support the City Rescue Mission of Lansing, which provides shelter and support for un-housed people.
Kunse said they picked the organization due to its close proximity to the Capitol. He said both parties wanted to use the game to support the "those less fortunate in the community."
"In a time when it can seem like division dominates the headlines, it's encouraging to see colleagues from different parties come together for a common goal: supporting our capital city," Kunse said in a statement.
Lawmakers hope the match will lend each other some good faith as they return to the State House and Senate. Farhat said the legislature will soon consider bills that should garner support from both parties.
"I look forward to our solutions on public safety our solutions on how we combat the education system, I think those are going to be very bipartisan," Farhat said. "Even infrastructure solutions are going to be bipartisan."
Republican lawmakers highlighted forthcoming work with Democrats on education and financial disclosure bills.
Organizers plan to make the softball game an annual tradition.