Spartans Women's Tennis "on the cusp of being a consistent NCAA qualifier"
Spartans Athletic Director Bill Beekman is joined by Kim Bruno, the head tennis coach of the Michigan State University Women's Tennis Team, and student athlete Sammie Memije, who is a five-year member of the team and currently a graduate student.
Bruno and Memije talk about how they became interested in tennis. Memije says the "individual aspect" of the game drew her to tennis while Bruno says the "team-oriented" nature of college tennis attracted her to the sport.
"It's interesting that way," says Beekman, "It's an individual sport and yet there's a team, and so in some ways, the best of both worlds."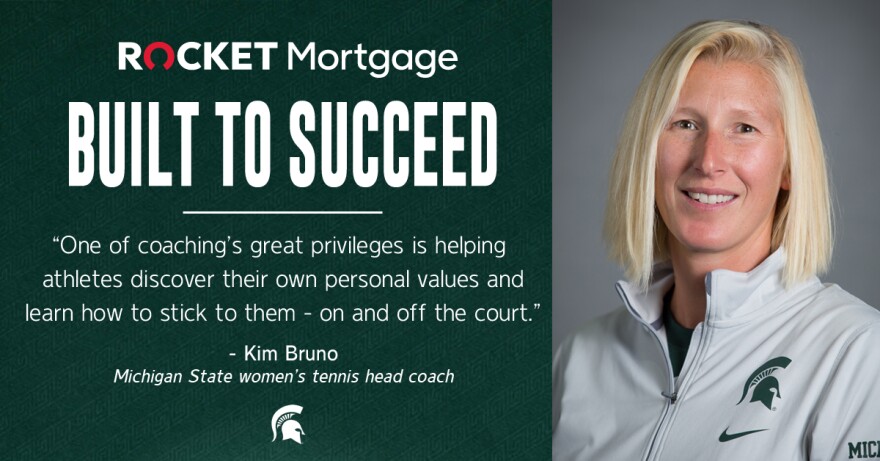 Bruno describes her coaching and recruiting philosophies and the relationships she builds with her players. And Memije talks about why MSU was the place for her coming out of high school.
"As soon as I stepped on campus, I had this overwhelming feeling that I belonged here," she says. "I knew I would excel in both tennis and school and also just grow as an individual person."
Memije talks about her preferences for playing tennis indoors and outdoors and describes the different challenges in playing singles and doubles.
Bruno talks about starting each practice with an inspiring quote. Memije's favorite is "A journey of a thousand miles begins with a single step."
"You have to tell your story and the truth about your program and what you do," says Bruno. "The balance piece makes us unique. We're not going to eat, breathe and sleep tennis. And we're not going to jam things down your throat here; it's just not how it's going to happen. At some programs, that's how it is. You're going to be respected by your coaches and we expect the same in return. We're growing as a program, and I think we're on the cusp of being a consistent NCAA qualifier. I think we're right on the cusp of that. We need that kid who's going to come here and wants to help make that happen. We just tell the story of what we are and where we want to be headed. We've had some of the best recruiting classes since I've been here, we just got to keep plugging away."
MSU Today airs Sunday mornings at 9:00 on 105.1 FM, AM 870 and wkar.org. Find "MSU Today with Russ White" on Spotify, Apple Podcasts, and wherever you get your shows.