Previewing Last Detroit Auto Show Held In Winter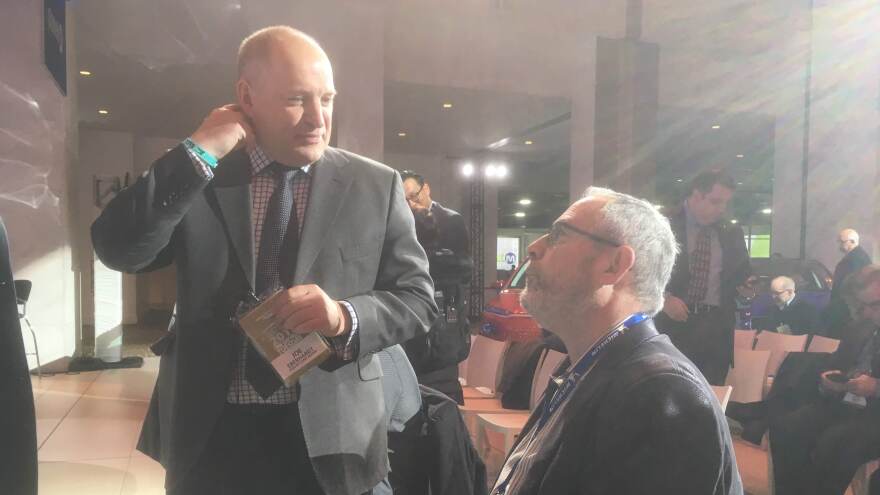 On Monday, auto industry journalists from around the world got their first look at this year's North American International Auto Show in Detroit.
Paul Eisenstein of TheDetroitBureau.com has attended auto shows in Detroit for 40 years. WKAR's Scott Pohl talks with Eisenstein about what's in store.
SCOTT POHL: When the talk began that the auto show would move away from winter, what did you think?
PAUL EISENSTEIN: You have to think about anything that makes a major change, but it started making sense very quickly. What you're seeing is a vast transformation in terms of auto shows in general. Automakers are really starting to rethink the massive amounts of money that these shows cost. It's not unusual for a major news conference to run upwards of $5-million, and they want a lot of return for their money.
The winter show has been a problem in part because the automakers have to pay to set up over a couple of holidays: Thanksgiving, Christmas and New Year's. So, for one thing, they're hoping that moving into the spring will cut the time it takes to set up, and the cost. They're also hoping maybe more people will show up when they don't have to trudge down in the snow.
SP: Being the last auto show in Detroit in the winter: is that a factor is why some of the major European automakers aren't here this year?
PE: Winter is one of the reasons that some of the Europeans don't like to come to the show. Cost is another. The reality is they're going to have to prove to some of the no-shows that by moving to spring, getting off of the holidays with all of the overtime that they have to pay the unions setting up the exhibits here, that they can actually drop the cost of participating in the auto show. That's going to be critical, and I think it'll be one of those cases if one maker comes back, say a Mercedes, it'll help draw others, like Audi, BMW, Volvo, and Mazda.
SP: So who's here, who isn't here this year?
PE: Well, it's interesting how many people are not here. It's almost a who's who of Europeans who aren't. The significant loyalist, if you will, is Volkswagon, which will be bringing out a very important product, the Passat, but Mercedes, Audi, BMW, Volvo…there were a few manufacturers from Europe, luxury manufacturers who came out for what they call The Gallery, a show within the show that was held on Saturday, but they're not here on the main show floor.
SP: Based on what we know at this very early stage, what are you anticipating when the show returns in the summer months of 2020?
PE: What's interesting about the show coming back in June is it'll give the organizers, the Detroit Auto Dealers Association, the opportunity to use more of Cobo. The roof, for example, and take advantage of things like the waterfront, which really is a special thing that Detroit has compared to a lot of other convention venues around the country. This could provide a really good opportunity to showcase Detroit in a new light. And of course, people come in now in winter, they really don't get to see a city that has gone through one of the most dramatic transformations in the positive way that we've seen in the United States since the end of World War II.
SP: On balance then, you'd say this is a good idea, to move to summer here in Detroit?
PE: I think it will be a good move to the summer. One of the questions is whether there will be product that automakers will want to come here with. The problem is by the time the June show is held, you've already gone through what was now the entire season. The auto show season typically starts with the Frankfort or Paris shows in autumn, then L.A., then Detroit, then Chicago, Geneva and New York. Now, this is putting the Detroit show in the middle of the season, either the end of the old auto show season, or at the beginning of the new season. That's going to be a challenge, to convince automakers to save product or pull ahead product to make this a vibrant show.