Michigan State Club Football Players Find Fulfillment In Love Of The Game
They don't get the bright lights on Saturdays, but are men that play for the love of the game.
EAST LANSING, Mich. – There are hours of grueling practice, the potential for a life-altering injury on every play, and the large time commitment to the team.
And yet, the Michigan State club football players find the love for the game makes their experience so fulfilling. They are all students, committing to this heavy practice and game schedule, and the game's risk every day. They don't get the same reward as the varsity Spartan football team, who play on TV, have packed stadiums, and take home pricey gear for free.
But the same levels of dedication and toughness are required for the MSU Club football team. They play because they want to – and still can.
"I've played football for basically my entire life, I could've gone on to play D3, but I knew that I wanted a good education, and I knew I could keep playing football here," said running back Matt Neill. "The team here is a lot more relaxed, they're able to work with all different types of schedules with work and classes, all together it just provides a great way for people who want to continue to play football."
The MSU team is in its fifth season, playing the Great Lakes Conference of the National Club Football Association. The Spartans finished 6-3 last year, and were ranked 11th in the NCFA power poll. They play a schedule against other teams such as the Battle Creek Assassins, Oakland University, Eastern Michigan, and Wright State.
The club's coaching staff shares the players' passion. The game, camaraderie and being part of a group doing hard work remains inspiring for Head Coach Mark Beach.
"I go out here and coach for the guys," said Beach. "I have coached for 25 years at all different levels, I've coached high school and college, I came to MSU four years ago, and became head coach two years ago. In that time I really realized how special these guys are, they're great guys who truly want to play football, and we (the coaches) just want to get them out there on the field."
"The thing with recruiting new players is that we have to get the players who really want to keep playing but don't want to go to a small school, they want to come to a place like MSU and they want to keep playing football, so we talk to high school coaches, we get people that want to keep playing and we get them to continue to play football," said Beach.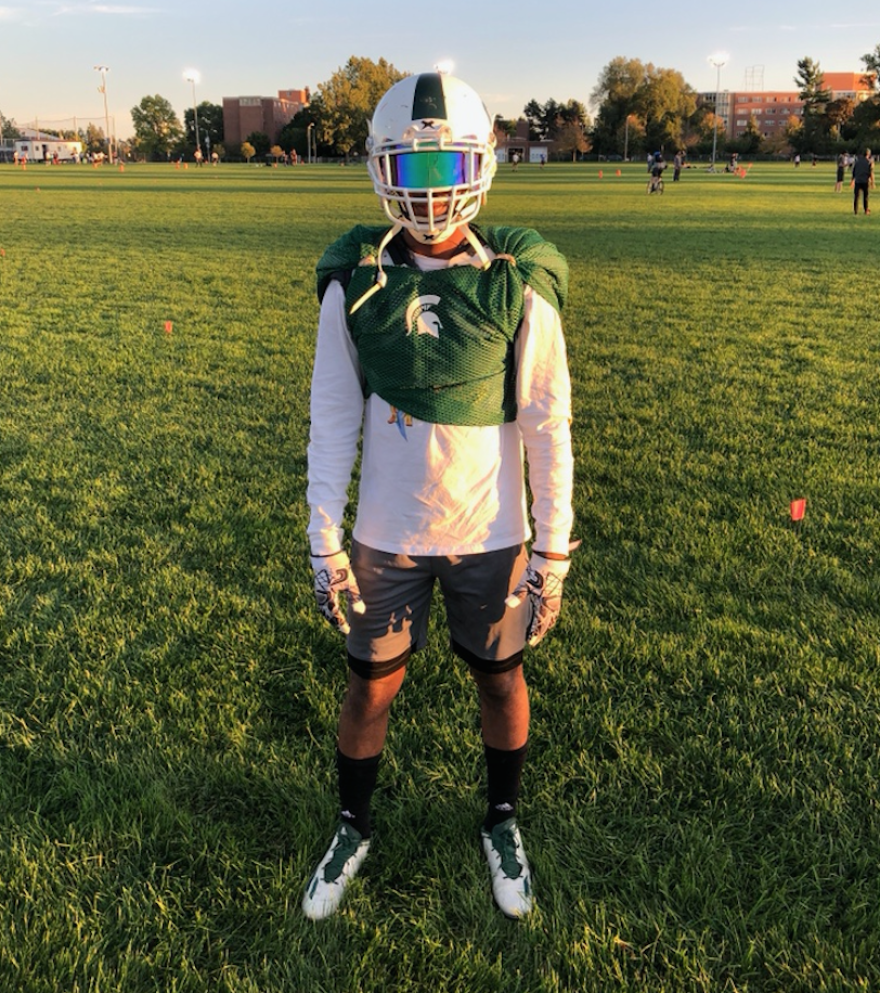 Defensive back Aaron Clark wanted to be part of the club team, knowing that he needed football to still be part of his life. Clark said that he thought the club football team provided the perfect opportunity for players like him, who want to keep playing while going to Michigan State.
"I love football, it is what I am passionate about and my passion for it is why I play," said defensive back Aaron Clark. "My entire life I played football, it's something that I always remember being a part of my life, and I knew I needed to continue to play the sport I love, that's why I come out here and play."
It is no secret that football is dangerous, with the potential for injury on every play. The risk is inherent, assumed by the club team without the benefit of the team of doctors and athletic trainers that surrounds the varsity MSU team.
The reason that the players go out there and risk it all to play football, is for the purest reason there is, the love for the game. Players like Clark, Neill and everyone else out there practicing after a long day of classes are football players at heart, and nothing will stop them from playing their game.