Originally published on January 2, 2021 1:35 pm
Florence is one of the main stops on any art lover's European itinerary. At the Uffizi Galleries, visitors can have their fill of works by Renaissance masters Leonardo da Vinci, Michelangelo and Raphael.
Of course, none of these artists are women.
In 2009, a new nonprofit foundation in Florence started to investigate why.
"I started going into museum storages and attics and checking what was actually there, what works by women," says Linda Falcone, the director of Advancing Women Artists. "It was something that had never been done before because no one had ever before asked the question, 'Where are the women?' "
In the years since, AWA has shed light on a forgotten part of the art world, identifying some 2,000 works by women artists that had been gathering dust in Italy's public museums and in damp churches. It has also financed the restoration of 70 works spanning the 16th to the 20th centuries.
The organization was founded by Jane Fortune, an American philanthropist who died in 2018. Fortune was an intrepid art detective whom Florentines nicknamed "Indiana Jane" in homage to her native state and her Renaissance treasure hunting skills.
For centuries in Italy — the cradle of Renaissance masters — women with artistic talent were not allowed to enter academies. And the names of the few female artists from centuries past have mostly faded into oblivion.
During the Renaissance, Falcone says, "Women didn't have citizenship. They couldn't produce art as a profession. They couldn't issue invoices. They couldn't study anatomy."
So, she says, "No in-the-nude figures, for example, because it just wasn't considered appropriate. The inability to study in the same forum as male artists is very significant."
And yet the artists persisted. A few Italian women were able to study painting in their fathers' studios — most notably Artemisia Gentileschi, daughter of the 17th century painter Orazio Gentileschi.
AWA is responsible for restoring David and Bathsheba, one of her paintings that was found after being hidden in a Florentine palazzo's attic for 3 1/2 centuries.
The group also rediscovered a 21-ft.-long canvas depicting 13 life-size males — the only known Last Supper painted by a woman. It is by the 16th century Dominican nun Plautilla Nelli — whose workshop was inside a convent in Florence.
Florence has a long Last Supper painting tradition. But, says Falcone, most of the works are static.
"Whereas," she says, "Nelli actually chooses sort of the key moment in which Christ announces his betrayal. And you have all of the apostles feeling the emotion of that very serious news. And so she is able to do a study of their responses, of their psychological responses."
And, unlike most Last Suppers by male artists, Nelli puts food on the table, says Falcone.
"She has lettuce, she has salt cellars, a lot of wine, bread for every apostle and knives and forks and beans and lamb — she did a Last Supper were people were meant to eat, first of all," she says.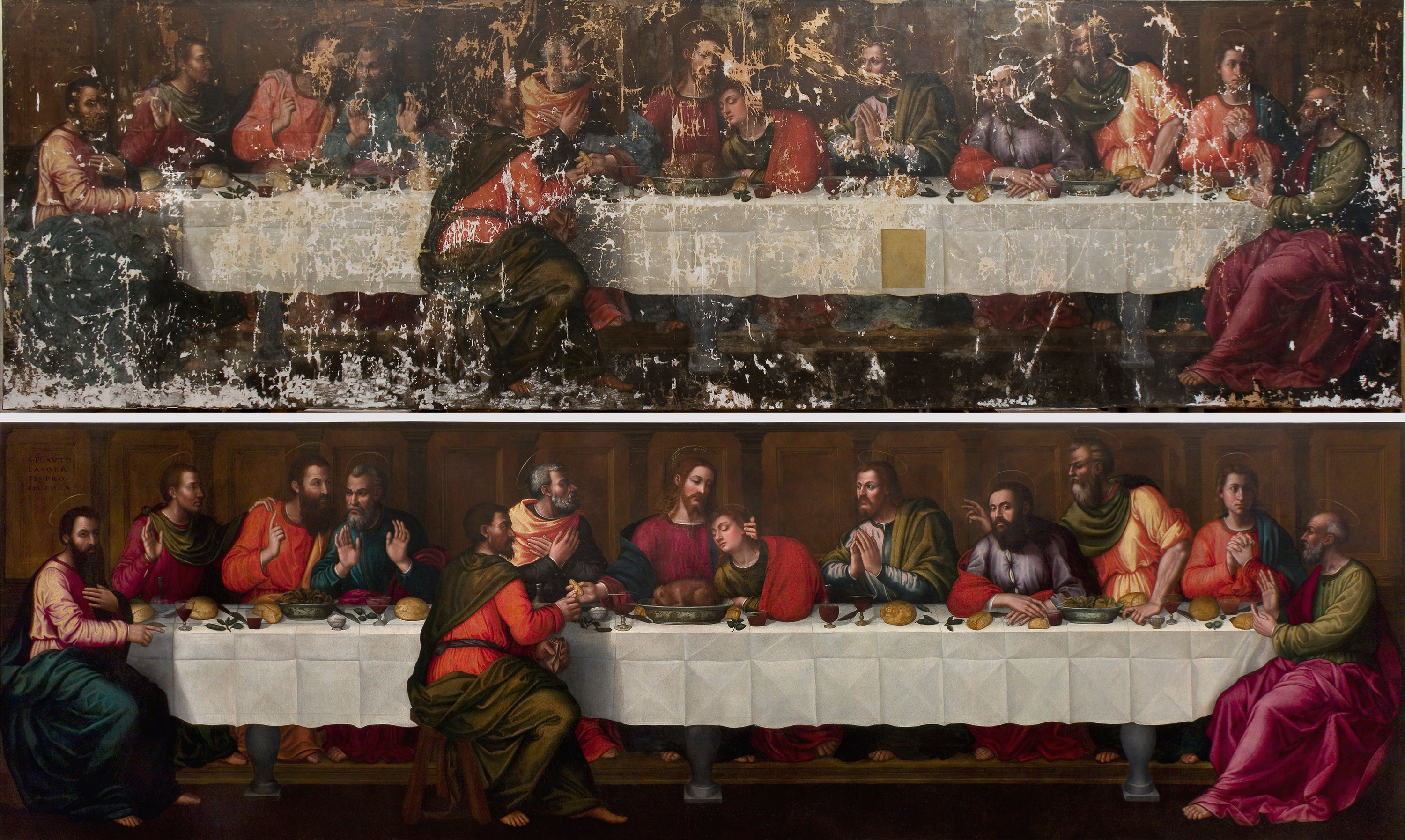 Also, unlike male artists of the time, Nelli signed her canvas — adding the words "pray for the paintress."
The nun's works were prized by Florentines during the 16th century because they were believed to be imbued with spirituality. Her contemporary, the art historian Giorgio Vasari, wrote that she "would have done marvelous things if, like men, she had been able to study and to devote herself to drawing and copying living and natural things."
Art restorer Elizabeth Wicks, an American based in Florence, says that like so many female artists, Nelli was then forgotten.
"It seems to me to be about the middle of the 19th century when these paintings stop being mentioned in the guidebooks," she says. "Women artists stop being mentioned. And if nobody writes about you, then you fade from history."
With backing from Advancing Women Artists, Wicks is currently restoring two large works by Violante Ferroni, an 18th century child prodigy of whom little is known today.
Born in 1720, Ferroni lived in a period of great sociological change in Florence, says writer Ann Golob, who has done research work for AWA.
"We do know that well-educated women certainly were getting much more of a seat at the table and there were definitely a few women who were achieving much greater prominence than beforehand," she says.
At the time, female artists were usually limited to painting still-lifes and small portraits. But while still in her 20s, Ferroni was awarded a prestigious commission by Florence's San Giovanni di Dio hospital to paint two ovals — each of them 8-by-11 1/2 feet — with spiritual scenes to help heal the ill. The subject was usually reserved for men.
For Wicks, restoring these paintings during the coronavirus pandemic has had particular relevance.
"Just to be able to work on this project was so healing for me," she says. "I mean, I was healing the art, but I was also healing myself in a certain sense."
The art of healing has been a constant theme of AWA's mission, says Falcone.
"Art is a living entity and a piece of art has its life," she says. "You know, it gets hurt. It gets damaged. It it needs renewal. It needs to be talked about and paid attention to, et cetera."
Falcone says that through restoration work, documentation and exhibits, AWA has contributed to a growing worldwide interest in and awareness of art by women. Yet the organization recently announced it is shutting down next June because it does not have sufficient funds to expand.
Falcone says the group has accomplished what it set out to do.
"It's a victory," she says, "because we're saying, wow, we're at a point where the museums are starting to place value on the female part of their collection."
Advancing Women Artists has fulfilled its mission, says Falcone because art lovers are now beginning to find answers to the question: Where are the women?

Copyright 2021 NPR. To see more, visit https://www.npr.org.
SCOTT SIMON, HOST:
A new health care law went into effect on New Year's Day. The Transparency in Coverage Rule requires hospitals to publicly post prices for every service they offer and break down those prices by component and procedure. The idea is to let patients choose where to go, with price taken into consideration. The new rule was made possible through the efforts of Cynthia Fisher. She's the founder of ViaCord and ViaCell companies and founder and chairman of patientrightsadvocate.org. She joins us now. Thank you so much for being with us.
CYNTHIA FISHER: Thank you, Scott. It's a joy to be here.
SIMON: And I gather you lobbied President Trump personally on this, right?
FISHER: Well, President Trump and also Secretary Azar and Acosta and Scalia listened to patients from across America, hearing the stories of being blindsided by outrageous medical bills. And President-elect Biden is supporting price transparency in his manifesto. And this is the win to put affordable into the Affordable Care Act. It's golden.
SIMON: You're confident that it will drive down costs. I mean, that's the whole logic. Why do you think it'll drive down costs?
FISHER: Well, we were also able to bring to the administration innovative surgical centers that already started this price-transparent world. And what these employers were able to do by contracting these price-transparent centers is, for around $15,000, get a knee replacement. In many of the opaque hospital systems where prices are hidden, we've seen knee replacements as high as $60-$75,000. When we can save nearly $50,000 on a knee replacement, that's a huge savings to not only the individuals and their families, but also their employers.
SIMON: I have to ask then, Ms. Fisher, because, you know, it's also been said that instead of inspiring high-priced hospitals and surgical centers to lower their prices, this might just inspire the lower-cost hospitals and surgical centers to say, hey, we can get people to pay more for a heart stent or spinal fusion, so we're going to raise our prices.
FISHER: You know, in every other marketplace in our economy, the consumers benefited from competition. So when hospitals have to compete for our hard-earned dollars, what we can see as consumers is, we'll shop with our feet to get the best quality of care at the lowest possible price. Think about it. Why didn't we know prices in health care? It's almost absurd. And now that's over.
SIMON: Any concern, Ms. Fisher, that people are going to make their judgments according to price? You know, when all is said and done, do you really want to get the cheapest hip replacement possible or the best?
FISHER: Well, there's wide variation in prices within the same facility. So, for instance, an MRI in Boston at a discounted cash price can be $250. In the same facility, you can pay as high as $2,000 from an insured negotiated rate. The only way that a consumer can benefit to get that lower rate is to know those price variations and not stand for being price gouged.
SIMON: I think some people listening to our conversation might think this is the regretful thing about the American health care system. People have to shop to receive health care. Why shouldn't it just be their right to have the lowest possible price?
FISHER: Well, I agree with you that it should be the American consumers' right to have the lowest possible price. I can share with you, Scott, that this week, the American consumers won in the courts, and no more will we have those surprise bills. Every bill's been a surprise.
SIMON: Cynthia Fisher, who is the founder and chair of patientrightsadvocate.org, thanks so much for being with us.
FISHER: Thank you. Thank you so much. Transcript provided by NPR, Copyright NPR.