Michigan State club women's soccer team finds success in numbers
The club program is growing, adding another team two years ago, and maintaining a high national ranking.
EAST LANSING, Mich. — Michigan State is home to the women's varsity soccer team, which is top 3 in the Big Ten. However, what some might not know is that it is also home to the women's club soccer team with its own high ranking. The club Spartan team finished the 2022-23 season ranked No. 8 in the nation, thanks to a roster stocked with players who could have played Division 1 soccer.
The student-run club was started in 1998, and has grown in size and talent since. There are two teams within the club: the original Green side, which is the A-level, and the White side, which was added two years ago in a program expansion.
Team Green has 30 members and White has 25. The White team only plays other teams in the Michigan area, such as Eastern Michigan, Michigan, Hillsdale, Oakland University and more.
"The white team, my team, plays in state games, while the Green team plays in state, and out of state as well," said President Lea Stogiera. "We also practice twice a week, while the green team practices three times a week."
Stogeria, an outside back, is a junior studying Hospitality Business, joined the club team this past year. She has been playing soccer since she was three.
"I missed the competitiveness level of soccer. COVID affected my senior year of high school, so I was unable to play my senior year or join the club team my freshman year of college," said Stogiera. "I took this as an opportunity to meet new friends and do something that I love."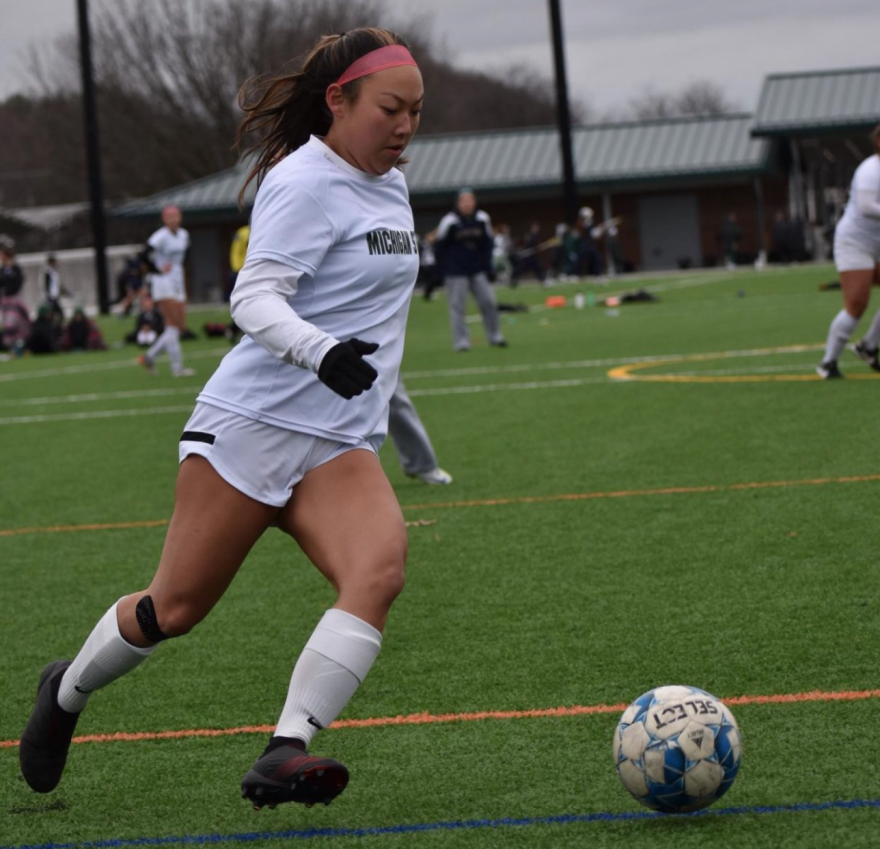 Lydia Fowler, also a junior, is from Marine City..On the field, she is a central attacking midfielder, but off the field she serves as the vice-president of the team.
"I wanted to be on the e-board because I thought it would be a good experience to understand how the team works and things that we can do better," said Fowler. "I really want to get our team known this year and have more people at our games and I thought being on e-board could really help with that."
The team practices at Hope Soccer Complex in Lansing, every Tuesday and Thursday, from 8:30 p.m. to 10 p.m.
"We work on drills that we need improvement on," said Stogeria. "Since we have 24 girls on the team, it makes it good for when we want to scrimmage to get more full field practice in as well."
This past April, White played Michigan's first team, which is the equivalent of the MSU Green team.
"We have never played them before," said Fowler. "And the fact that we came out and played some of the best soccer we have ever played as a team and got shots off and defended so well and held them to a tie was such an amazing feeling."
With success on the team comes challenges for the athletes. Time management between classes and practice is something that took a while for Stogiera to adjust to.
"Time management is a huge one since this is such a busy time," said Stogiera. "Also making sure to take care of myself by doing everything my body needs post game and pregame. Making sure that I eat properly and enough to fuel my body while having a nonstop day was one challenge, I had to figure out quickly."
Although Team White has only been active for four seasons, Fowler, Stogiera and all of the athletes who make up the team strive hard to make the team the best it can be.
"It has evolved so much," said Fowler. "We have figured out the operations of this club and the best ways to run things with the little knowledge that 20-year-olds have. But it has grown so much and I feel like people are finally starting to hear about us and what we have to offer."