In Photos: Lansing's First Killer Car Show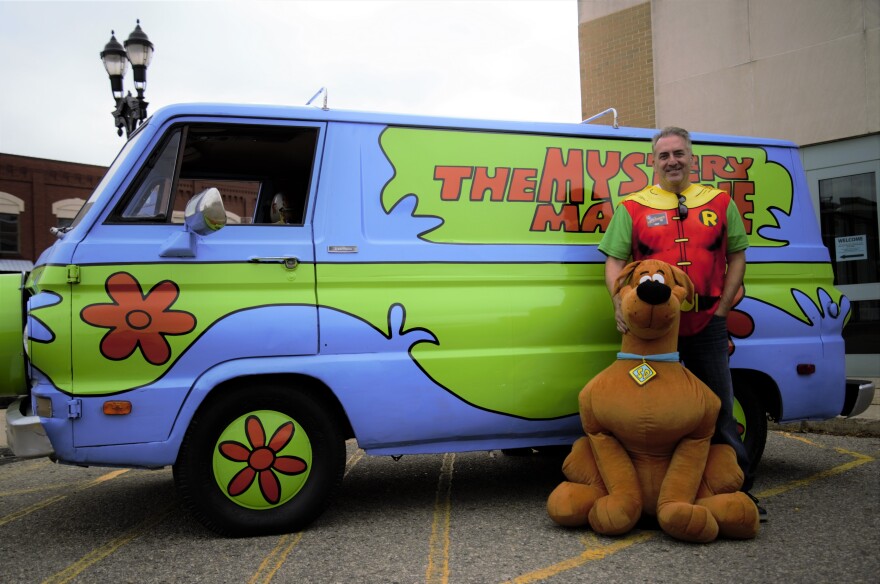 Saturday marked downtown Lansing's first ever Halloween themed, Killer Car show.
Nearly three dozen cars parked in on the Michigan Avenue lot at Lansing Center masqueraded the "Scooby-Doo" Mystery Machine and "The Nightmare Before Christmas" train.

Director Jerry Jodloski said that the whole festival is a celebration of the do-it-yourself spirit of the holiday.

"People build really cool props and costumes," said Jodloski. "They want to show it off more than just one day of Halloween so we try to extend that for them."
The Killer Car Show invites people to show off their car creations whether it's a rat rod, a unique custom vehicle or anything in between. "It's almost like the island of misfit toys for vehicles," said Jodloski.
Jerry Jodloski always wanted his own version of the Mystery Machine from the popular cartoon "Scooby-Doo". It all started when he and his friend saw a craigslist advertisement for a 1970 Dodge A100. With a new engine installation and the addition of vinyl graphics, the "Michigan Mystery Machine" was born. Jodloski said it took less than $2000 to transform. The "Michigan Mystery Machine" even has its own Facebook page.
If you're a fan of the movie, "Road to Perdition", you may recognize Tom Hanks' character on the hood of this 1984 Chevrolet Corvette. "It's a really good mob movie," said Patrick Maltby, who helped vinyl wrap the rare first year edition vehicle.
Standing at about 13 feet high, Bryan Watros's monster truck was one vehicle that you could not miss. The truck has Ford F-150 body with 66 inch wheels. Watros said he showcases this car at events with his company Mongoose Pro Monster Trucks.
Brian Pennell's 1972 Cadillac Fleetwood now acts as a limousine but it used to have a different purpose. Pennel said that it served as an ambulance and a hearse in the 1970s. He named the vehicle Lillian inspired by the television sitcom, "The Munsters".
Craig Becker is ready for the zombie apocalypse with his 1998 GMC Jimmy. He is part of a group called The Zombie Outbreak which buys beater cars and transforms them into zombie hunting machines.