Evacuations Continue Because of Ice Jams In Portland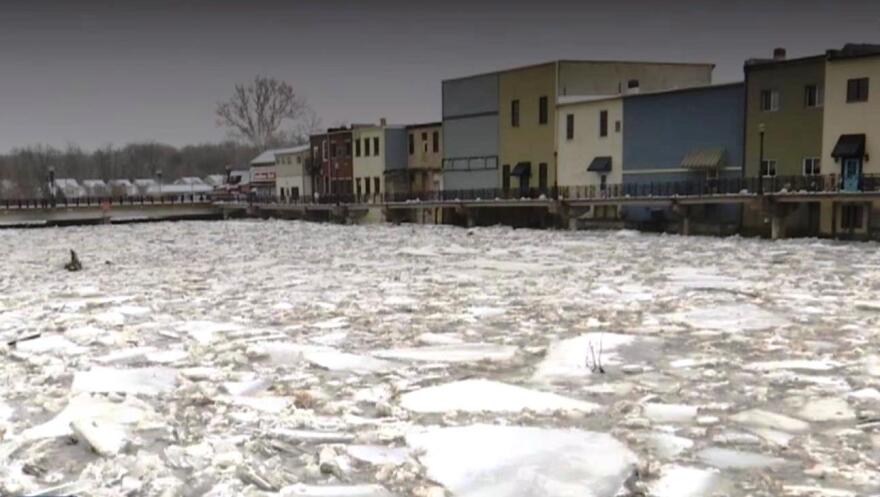 UPDATED at 4:45 PM Friday
Flash floods caused more evacuations in the city of Portland on Friday.
On Wednesday, about 50 people were removed from their homes due to flash flooding. Some of those residents returned to their homes later that day.
On Friday morning the breakup of an ice jam on the Grand River caused more evacuations according to city leaders.
Tutt Gorman is the Portland City Manager.
"The ice debris came rushing down Grand River and just caused a substantial amount of flash flooding. In other areas, in some of the same affected areas, but also some additional areas as well," he says.
Gorman says no injuries were reported. People can call 2-1-1 for information on when to return to their homes.
All of the bridges in Portland are also off limits.
UPDATED Wednesday 9:00 PM
Some residents in Portland are returning to their homes after an ice jam on the Grand River sent floodwaters toward homes and businesses.
Portland leaders said in a statement late Wednesday that they are watching the Grand River closely after issuing evacuations earlier in the day. Portland is in Ionia County.
Early Wednesday morning, the city evacuated 50 homes along Canal and Water Streets because of the threat of flooding because of ice jams.
Portland opened its City Hall as a shelter.
Later, Canal Street residents were told they could return to their homes. However, Water Street residents remained displaced. Most have decided to stay with family instead of at City Hall.
The city said late Wednesday that water levels have decreased.
The city along with Michigan State Police and the National Weather Service are monitoring the levels of the Grand River in case more flooding appears imminent.
WOOD-TV sent its drone to look at the Grand River from above: