Delhi Township Sheep Provide Lawn Care And Wool For Socks
In Mid-Michigan, one municipal department has recruited some fuzzy animals to help maintain the grounds and lend their wool for some winter wardrobe staples.
For more than a decade, the Delhi Township Department of Public Services has kept a flock of sheep.
Sandra Diorka is the Director of Public Services for the Township. She says they used to hire a person in the summer to mow the lawn around the property.
"Over in that area, it's quite a bit of lawn. So, we went to the Board, and we asked if they would object to getting some sheep to do it," she said.
With names like Priscilla, Piper, Pepper, Murdock and Violet, the sheep keep the grass trimmed around the property.
They also have an important job of keeping the sloped edges around the department's ponds free of plants, so pollutants in the water don't seep into the ground.
"It's imperative to maintain those slopes, and the sheep just do an awesome job," Diorka said. "In retrospect, I would have them just for that, no matter about the mowing the lawn."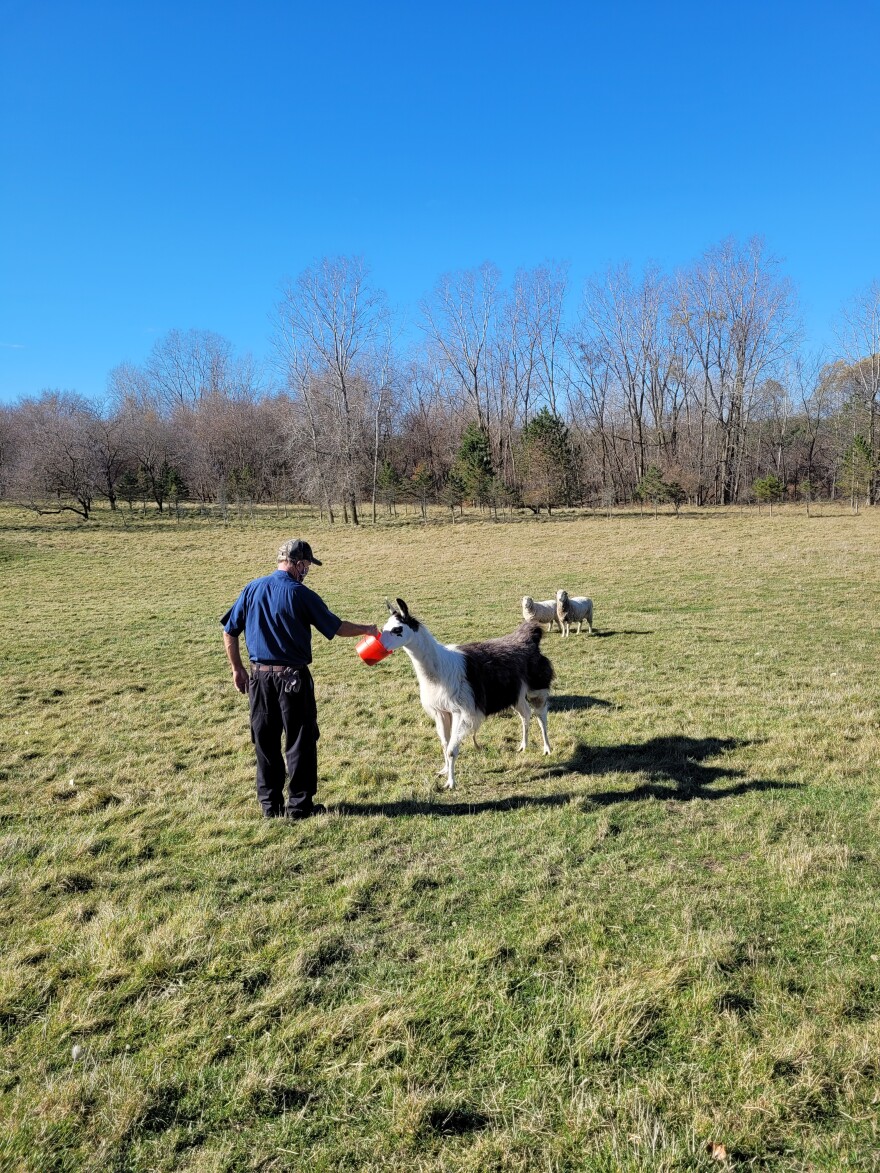 The flock also includes a llama named Firebird who serves as a guard animal for the sheep.
"He knows who belongs there and who doesn't, and he can spit on you. He's big, and he's pretty scary," Diorka said.
Roger DeYoung does maintenance for the department. He said the flock has become an unexpected part of his job.
"I never thought I'd be a shepherd."
But he says the sheep are mostly self-sufficient.
"They take care of themselves pretty good. You know, they wander around, find different patches where they eat, and then they have a barn over here with some hay in it where they go to sleep at night," he said. "They pretty much got their routine down. "
He often greets the flock by yelling, "Hey sheep!" and they always come running when he brings out their treats.
The sheep are more than just useful on the property. When they get sheared, their wool is sent to a mill in Frankenmuth to be made into yarn as well as socks that the Department sells at their office.
Each product is wrapped with a sleeve with a picture of a sheep or ram on it and the name "Delhi Sheepy."
"We wanted to do something good with the sheep's fleece, and we wanted to have it be a way for the community to kind of have a part of it and be part of it because they see them when they come to the Recycle Center," Diorka said.
Diorka says she did not expect to get so attached to the animals. She said it's especially hard when one gets sick or gets old and has to be put down.
"If you lost your cat or your dog, I mean, not as much as a dog, but you're still providing for them, and when something unfortunate happens to them, you just feel bad," Diorka said.
As temperatures get colder, not much will change for the sheep except they'll get a few more extra bales of hay when snow covers the ground.
If you want to take a peek at the flock, you might catch them across the fence on Grovenburg Road near the Delhi Recycling Center.