University of Michigan econ study predicts small, temporary effect if UAW goes on strike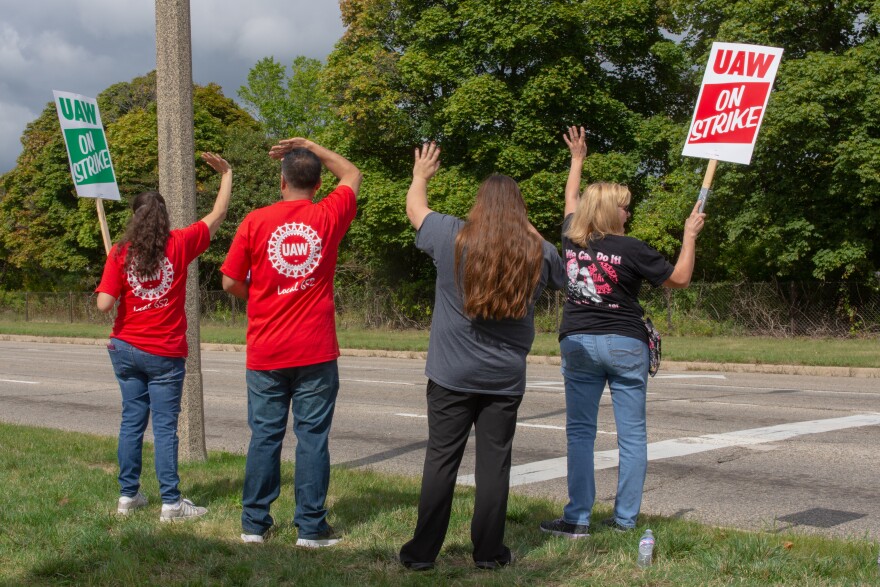 A closely watched University of Michigan economic forecast predicts a small spike in unemployment early next year following an expected auto workers strike.
The quarterly report on Michigan's economy is from the UM Research Seminar in Quantitative Economics. It assumes a strike from the United Auto Workers union would last about six weeks. That would be similar to a 2019 UAW walkout at General Motors plants.
"Obviously, you know, we will see that show up in the jobs numbers, but we don't expect that to fundamentally alter the trajectory of the state economy," UM economist Gabriel Ehrlich said. "There's a risk if we had a much more severe strike scenario that the economic fallout would be greater."
So, a short strike would probably not derail Michigan's recovery, but it would make a difference. Ehrlich said he expects the state's unemployment rate would creep up to about 4.1% if there is a strike. He predicted economic growth would also slow down a little. Michigan's jobless rate is currently 3.6%, which is very low.
The report says, despite a "strike-induced wobble," economic growth should continue over the next three years. But it says the outlook gets worse if a strike at any of the Detroit Three carmakers lasts more than two months.
But Ehrlich said the prospects of that could also spur serious bargaining.
"Obviously that puts pain on both sides—the automakers and the auto workers—and so that does create an incentive to get to a deal," he told Michigan Public Radio.
Ehrlich said the longer a strike lasts, the bigger the consequences. But he says the more lasting impact would likely come from what's in a contract in terms of wages and its effects on the willingness of manufacturers to invest in Michigan.