Jankoska leads by effort and example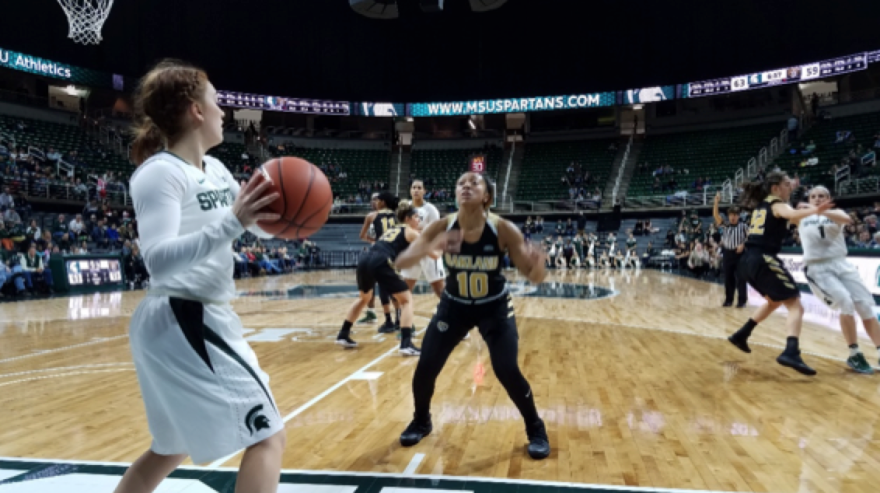 Over six years ago, Tori Jankoska committed to play for Suzy Merchant and the Michigan State women's basketball team. She was 15, going into her sophomore year at Freeland High School, but she always knew she wanted to play and help MSU reach the highest level.
"I was never a huge recruit," Jankoska, a 5-8 guard, said. "I was never in the 'ESPN top whatever'. That was never what I was about, though. I've never made it about that, I wanted to get my dreams…and I've reached my dreams. This is my goal that I've had since I was five years old."
Fast forward to 2016, Jankoska is the team's senior captain, a pre-season Naismith watch list member, and averaging 22.3 points, 7.5 rebounds, and five assists in nearly 36 minutes per game.
She is MSU's scoring leader, but also its heart and steely soul on the court. The Spartans are 9-2, including a perfect 4-0 at the Breslin Center, through Dec. 12.
"Tori has done that her whole career," Merchant said. "Not so much her freshman year, but from sophomore year on. She's just tough, she's a competitor and she's got a lot of heart and competes. [She] believes in herself and is really confident. I feel like having her out there maybe a little bit tired is better and she's experienced and she kind of knows what's going on out there and scouting reports and things like that."
Jankoska's tenacity and high basketball IQ has helped her leadership role grow since coming to East Lansing in 2013 -- she has now become one of the best late-game options in the Big Ten.
"She's really doing everything she can on the offensive end to be competitive and attack," Merchant said. "This team has been through a lot. We've traveled so much. We've been gone so much. We've played nine or eight games in a short span. I mean, you go west coast then go to New York and have a one-day prep for some super close game and our kids were really tired. So to see her step up and do that as a senior, I think [she] is really inspiring, really, and I was proud of how she performed."
Jankoska expects a lot from herself, and knows being 5-8 guard in elite women's college basketball means she has to work a harder on both ends of the floor to make her mark.
Jankoska hits the game-tying shot to force triple overtime versus Ohio State
"I think that's what makes me be able to play at the level I can," Jankoska said. "I'm not the most athletic. I'm not the quickest. I'm not the best shooter. Just to be able to compete and go one-on-one and make sure I'm not losing against the girl in front of me, I think that's what helps me become a good player."
Jankoska's positive and driven attitude inspires her teammates.
"She's great," sophomore center Jenna Allen said. "That's all you ask for from your senior captain, honestly. She's there points-wise, rebounds, assists, she's getting us hype – she's everywhere. That's what you expect from your senior leader and she's doing it."