Watch Spartans Take Holiday Bowl Picture on Eve of Kickoff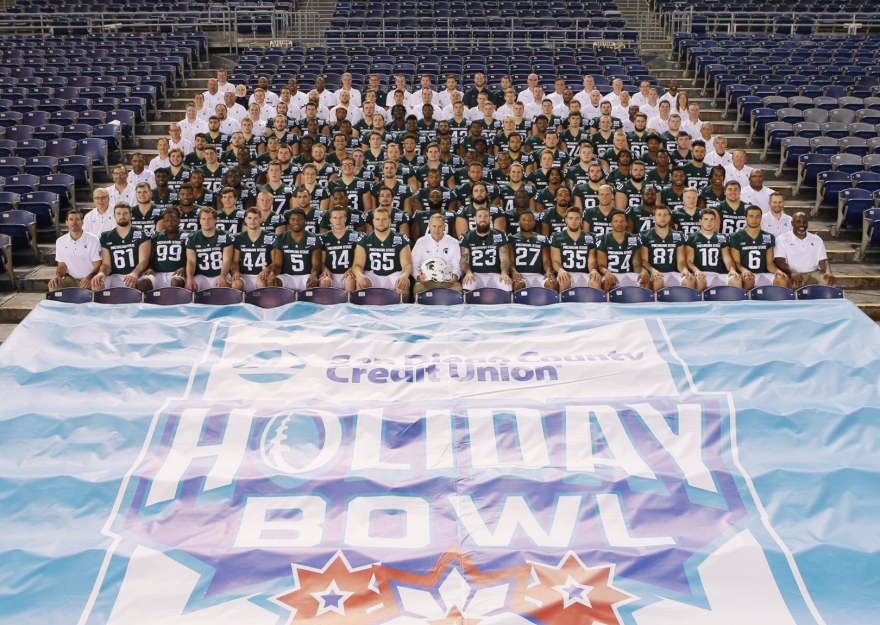 After the final press conference on Wednesday, the day before kickoff of the 40th annual San Diego County Credit Union Holiday Bowl, Michigan State and Washington State had an eventful afternoon.
The two teams attended the National Funding Holiday Bowl Kickoff Luncheon before hundreds of fans in a program that featured the marching bands from both schools, comments from both head coaches, and a question-and-answer session with FOX sports analyst Joel Klatt.
Following the luncheon and afternoon meetings, MSU held a brief walk through on a practice field outside of SDCCU Stadium, then took a team photo inside the stadium almost 24 hours from kickoff on Thursday night.
The Spartans were scheduled to watch a team movie in the hotel later at night after a team dinner.
MSU will hold team meetings throughout the day on Thursday before arriving at SDCCU Stadium approximately two hours from kickoff. MSU (9-3) and WSU (9-3) will meet at 9:05 p.m. and can be seen on FOX Sports 1.
Watch video of team photo below!