Joining Forces: Holt Gymnastics Welcomes Mason, Forming New Co-op Team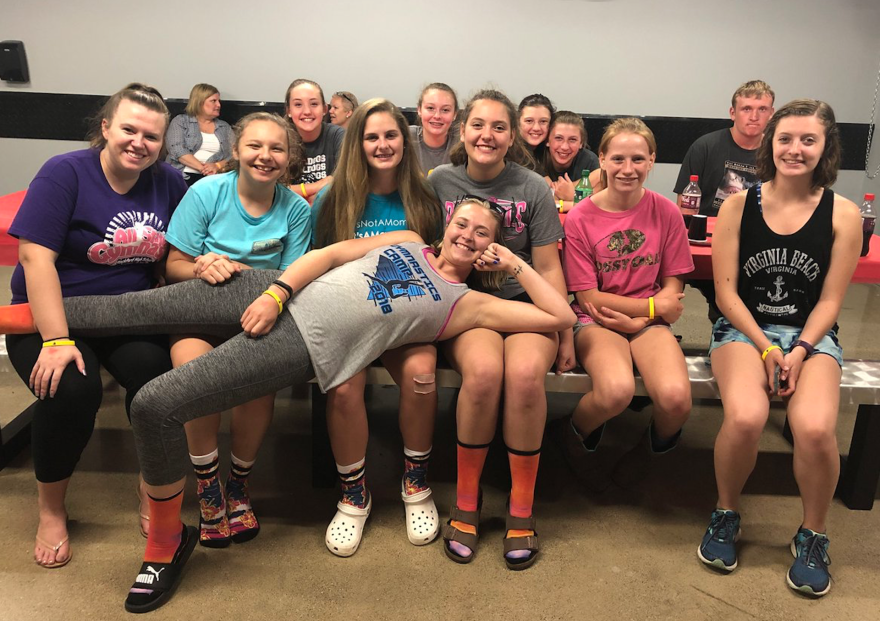 Mid-Michigan high schools, like many others in the state, are struggling to keep gymnastics programs going in the face of dominant club programs.
HOLT, Mich. – A handful of girls finish their flips, break down equipment and stretch to round out gymnastics practice at Holt high school – a ritual that is becoming rare in Michigan. As the years pass, more high schools are either merging teams, or completely cutting, gymnastics programs.
Mason was in recent jeopardy of ending its prep program. Holt, just 20 minutes up U.S.-127 – or Cedar St., if you prefer the scenic route – wasn't going to leave the Bulldogs' gymnasts without a home. Mason has had several coaches in recent history, and another loss of a head coach left the entire program in jeopardy.
The respective boards of education came to an agreement this summer to form a co-op, allowing Mason's gymnasts to join the Rams for the upcoming season.
"Mason would've had to find a new coach, and I know they've had some issues finding coaches over the years, so there's a possibility that it may not have been – and I certainly did not want to see us lose another program," Holt coach Jamie Kline said, who is entering her fifth year as the Rams head coach.
Kline welcomed the co-op solution, realizing it was the best solution for both schools.
"The 2011-12 season when I first came in, there were I think 74 high school teams," Kline said. "We're down to 51 or 52. We're losing them too fast, in our league alone. The night that the Holt and Mason one got approved, St. John's and DeWitt lost theirs (teams).
"Now granted, Haslett has picked up St. John's and East Lansing has picked up DeWitt, so the programs – they're saved, but it's not the same."
When attempting to pinpoint the reason why programs are harder to keep, look no further than the sport and gymnast themselves. For a lot of gymnasts, there are no scapegoats – just reality.
"It's a tough sport, for one," Kline said. "You don't get a lot of kids who think their freshman year of high school, 'let's go out for the gymnastics team,' having never done gymnastics before. Because if they do, they walk in here, and they realize as much as it looks really cool to do a flip, the amount of work that goes into getting to that point – it's brutal."
Along with the physical aspect of gymnastics, the mental, financial and time-consuming part of the sport can be daunting.
"It's a bigger time commitment; it's a bigger financial commitment [club gymnastics]," Kline said. "This [fall] is our offseason, so there's no requirement to be here. Four of them come in and they do a little bit of work for an hour and they go home. But we got a couple of girls that do cross-country, we have one that's a swimmer. So, they don't come in in the fall; they don't come until November when their season starts. They have time to be high school kids; they get to go to football games and all the other fun stuff that sometimes being in a club you don't get to do."
When Kline's daughter was in club gymnastics at 10, she trained around 25 hours a week. Kline's athletes at Holt train no longer than 15 hours a week.
Going against the grain, Mason sophomore Jordyn Bodell hasn't been a part of club gymnastics. S he's entering just her second season as a competitive gymnast, and unlike many of her former Mason teammates, she's one of the handful that completed last season from start to finish. The Bulldogs started with around 17 girls, and only finished with half by season's end.
"I know a lot of people tend to shy away from it because it's very time consuming," Bodell said. "Other people just don't have enough time in their schedule, some people just – I think it's a really difficult sport that takes a lot of time that people can't dedicate to as much."
"I just have a lot of fun with it and I like learning new things, being part of a team, and I just really enjoy it."
Kline intends to keep girls like Bodell and her new teammates around for a while, as she continues to build the new program. There's no reason to believe the Holt's gymnastics program will join the ranks of many other programs that have disbanded.
"As far as I know, we've not been in jeopardy – we've been fine," Kline said. "Three years ago, we actually started a junior Rams program for third through eighth-grade girls. Our program has somewhere around 40 kids in it. If those kids remain, we're good. We fundraise the heck out of stuff, we do a concession stand for MSU, we do a summer camp so that we can buy more equipment. But, it's expensive."
For Bodell, she plays a unique role in her development as a gymnast. She is a strong example for gymnasts who haven't been in club and choose to start the sport in high school. The experience of learning a new sport and bonding with teammates are important experiences, and Kline hopes more girls will join.
"They're looking for a team sport that they can do in high school and have fun," Kline said. "Club kids are looking for something a little bit more. [It] depends on who you are and what you want. We want to have fun."