UAW Contract Vote Totals Begin Coming In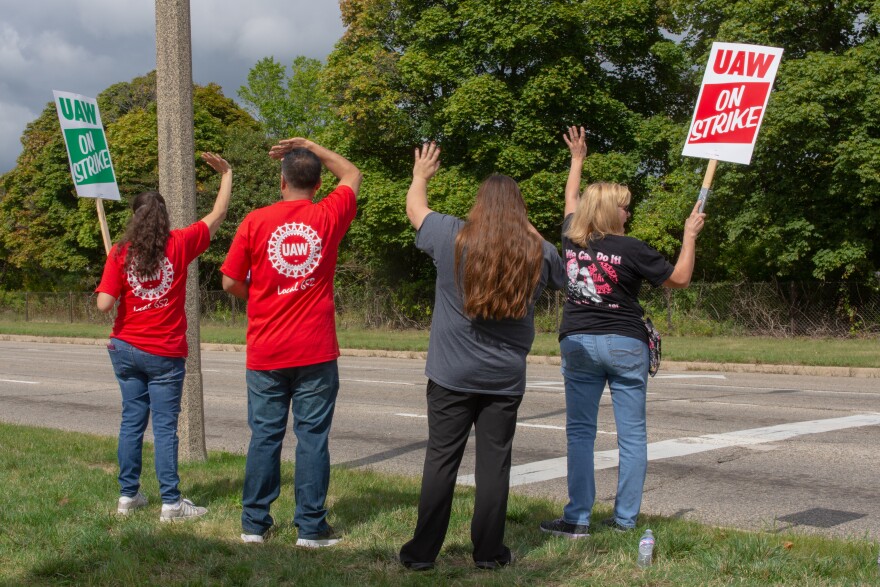 Vote totals are beginning to trickle in from United Auto Workers union locals around the country on day 38 of a strike against General Motors. Some locals have strongly voted to ratify the four-year contract, but it also has been rejected elsewhere.
WKAR's Scott Pohl talked via Skype with Michael Martinez of Automotive News about the early vote tally. Below are highlights of their conversation.
Interview Highlights
A UAW Strike Against GM: Building For A Long Time
"Back in 2007, the union made a lot of concessions to help keep for GM and Chrysler afloat, and the workers want all those concessions back because all the automakers have been extremely profitable over the past few years. So their anger has sort of been slowly boiling here, they were ready for a walkout, and they delivered that."
Early Ratification Vote Trends
The vote at the Warren Tech Center was 883 supporting the deal and 120 voting against it. At Saginaw Metal Casting, 75% of production workers and 73% of skilled trades workers voted to ratify. The Toledo Transmission facility voted overwhelmingly to approved the contract, 1,134 to 282.
It was a different story, though, at the GM Components Holdings plant in Rochester, with 525 voting against and 110 voting yes. Workers at Spring Hill, Tennessee narrowly voted against the pact, 1,673 to 1,666.
"You're seeing strong no vote from the first GMCH (General Motors Components Holdings) plant (in Rochester, NY). They're sort of, in a way, second class citizens compared to all other workers. They make a lower wage scale, they have fewer benefits and fewer job protections than traditional workers, and they feel they didn't earn as much in this tentative deal. Also, Spring Hill voted it down, which was somewhat surprising because that was one of the only plants to have product promise to them spelled out directly in the contract."
Randy Freeman, president of UAW Local 652 representing members at Lansing Grand River, has told WKAR that vote totals from LGR can be expected Thursday evening.
Issue: The Path To Full-Time
Last week, one striking UAW member told WKAR he was a "hard no" on ratification, expressing concern over the deal's path to full time employment for workers currently on temporary status.
"The contract does provide for three year path for full time employment for temps, although it gets a little murkier when you look at new hires other than three year path is for all current temporary workers. For new temporary hires, they'd have to start off as part time temps for a while, and then after that, they'd have to wait two years before they could be considered for regular full time employment. Some argue it should be a quicker path, but it's hard to see that they could win much more there if they were to throw the deal back."
The United Auto Workers Union is expected to announce a final nationwide vote result late Friday. If approved by union members, Martinez thinks plants could reopen the next day or, at the latest, on Monday.